Adjoa Jackson Burrowes
Mixed Media Artist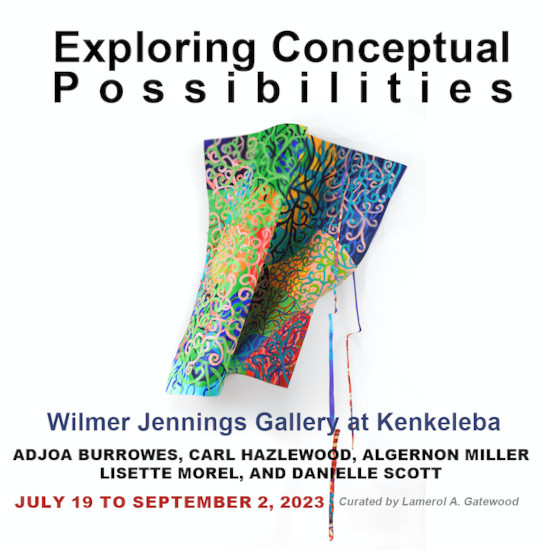 Exploring Conceptual Possibilities
Exhibition featuring Adjoa Burrowes, Carl Hazelwood, Algernon Miller, Lisette Morel and Daniel Scott, curated by Lamerol Gatewood.
July 19 to September 2, 2023
Reception: August 5th, 3-6:00 pm.
Wilmer Jennings Gallery at Kenkeleba
219 East 2nd Street at Avenue B, New York, NY 10009
https://www.kenkeleba.org/
Holding Ground: Artists' Books for the National Museum of Women in the Arts.
Saturday, October 21, 2023 through Sunday, October 20, 2024.
Nine new works by celebrated book artists inaugurate NMWA's new Learning Commons and its reinvigorated Betty Boyd Dettre Library and Research Center. Some of the artists reflect on NMWA as a special place for art by women. Others remind viewers that creativity is expressed in other environs, from small interiors to vast outdoor geographies. Above all, the artists' books celebrate the varied spaces where women's creativity blooms. Participating artists include Alisa Banks, Adjoa J. Burrowes, Julie Chen, Suzanne Coley, IBé Crawley, Maricarmen Solis Diaz, Colette Fu, Kerry McAleer-Keeler, and María Verónica San Martín.
https://nmwa.org/whats-on/exhibitions/upcoming/

NMWA xChange: Holding Ground
National Museum of Women in the Arts' monthly talk show connects viewers to the museum and its mission to champion women artists. In this episode, guest curator Lynora Williams discusses the upcoming exhibition Holding Ground: Artists' Books for the National Museum of Women in the Arts with artists Adjoa J. Burrowes and Colette Fu, who are creating works for the exhibition.
Tue, Aug 08, 2023, 12:00 to 12:45 pm ET
Free Registration required. https://nmwa.org/whats-on/calendar/nmwa-xchange-aug-8/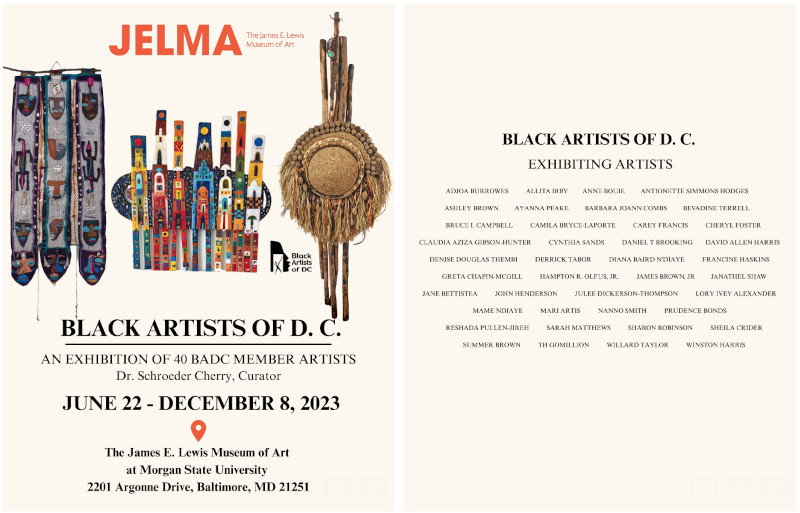 40 BADC member artists at the James E. Lewis Museum of Art at Morgan State University.
June 22 - December 8, 2023
https://www.jelmamuseum.org/events/black-artists-of-dc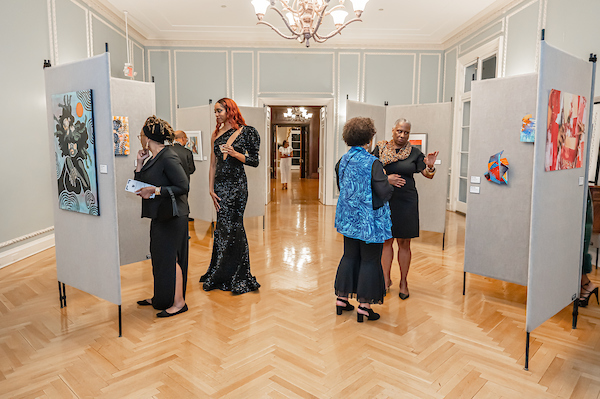 Black Women's History Month Art Showcase Oxon Hill Manor
Artists in the online Prince George's Park "Art Auction," until mid-May include: Michelle Talibah, Adjoa Burrowes, Claudia "Aziza" Gibson-Hunter, Melanie Royster, Katherine Tompson, lauded quilter and multimedia artist Faith Ringgold, and exhibit curator Cheryl Edwards.
https://www.pgparks.com/5381/Art-Auction?fbclid=IwAR1rS2knDUH9tQMA0z3f_BrxVX9 as3DHqB03LLUKEEbh7FlyW21jWjnh_JA

Adjoa Burrowes included pieces from her series "Winds of Change."
https://www.washingtoninformer.com/art-exhibit-reception-celebrates-black-womens-history-month/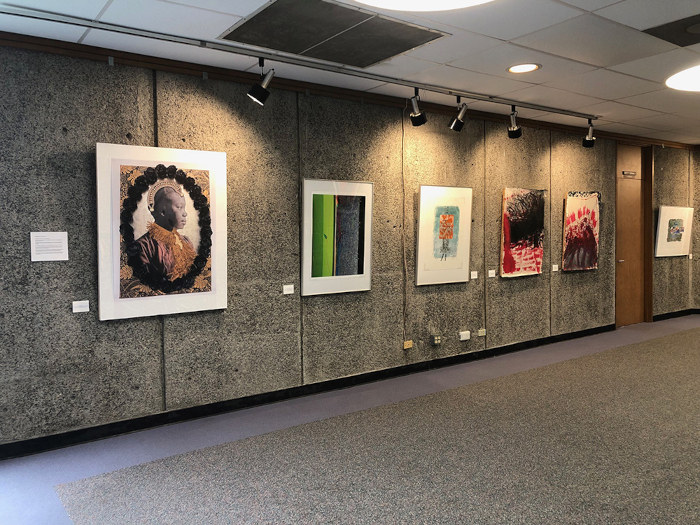 Exhibition at University of Hawaii Hilo Campus Features Five Artists
Exploring Conceptual Possibilities: Black Inner Vision exhibit curated by Lamerol Gatewood at the University of Hawaii, Hilo Campus Center featured artists Adjoa J. Burrowes, Carl Hazelwood, Algernon Miller, Lisette Morel, and Danielle Scott, on view February through April 2023.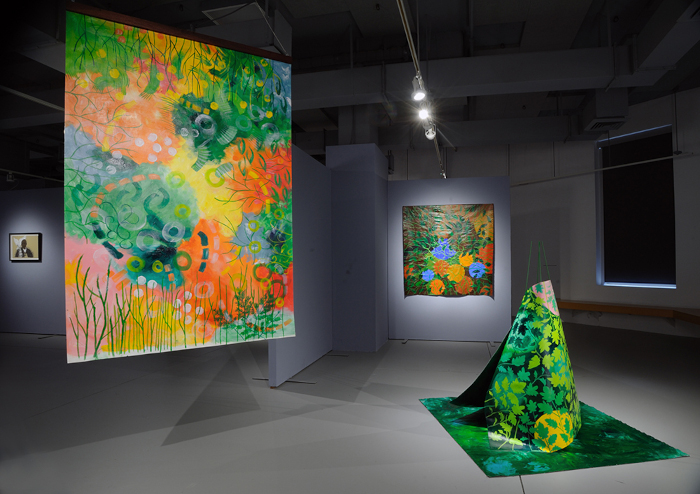 Installation view Adjoa Burrowes Earth, I thank you, Soil Sanctuary, and Garden Cloak.
between a rock and a soft place at Tephra ICA, Reston, VA
Tephra Institute of Contemporary Art (Tephra ICA) presented between a rock and a soft place, guest curated by Deirdre Darden, featuring new work by Holly Bass, Adjoa Burrowes, Deborah Grayson, Katie O'Keefe, and Britt Sankofa that reframed the concept of rest as more than a reward for work, but as a practice in itself. between a rock and soft place opened a conversation about negotiating societal structures that stand between the subject and a life of ease. This exhibit was the 2023 iteration of Tephra ICA's Mary B Howard Invitational. On view from December to March 2023.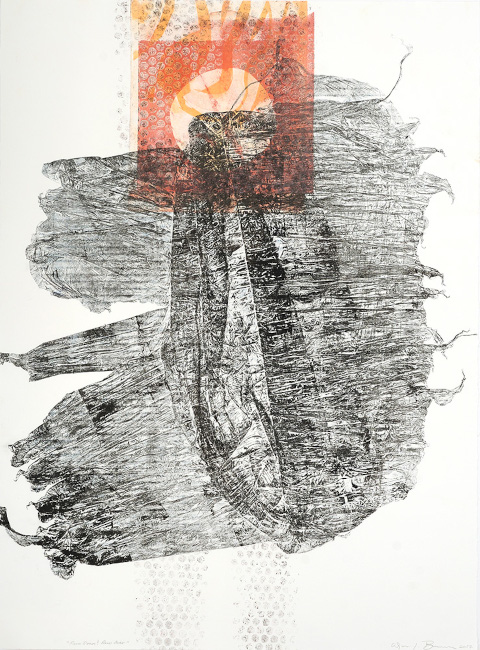 MADE IN VA 2022 at the Virginia Museum of Contemporary Art
Burrowes monotype Run Down and Run Over was awarded Second Place for Best in Show in the MADE IN VA 2022 exhibition at the Virginia Museum of Contemporary Art in Virginia Beach, VA. 31 artists were selected by Juror Bana Kattan of Chicago's Museum of Contemporary Art. A record 532 artists from across Virginia applied for this annual juried exhibition on view from October through February 2023.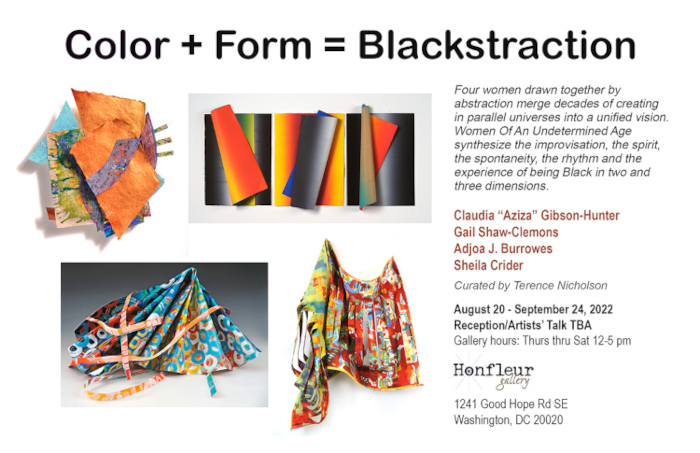 Four Woman exhibition at Honfleur Gallery, Washington, DC
Honfleur Gallery presents Color + Form = Blackstraction featuring artists Aziza Claudia Gibson Hunter, Gail Shaw-Clemons, Adjoa J. Burrowes, Sheila Crider & Curated by Terence Nicholson. Four women drawn together by abstraction merge decades of creating in parallel universes into a unified vision. Women Of An Undetermined Age synthesize the improvisation, the spirit, the spontaneity, the rhythm, and the experience of being Black in two and three dimensions. On view August - September 2022. https://www.washingtonpost.com/arts-entertainment/2022/09/09/art-gallery-shows-dc-area/